"We have you surrounded! Put the bugs down and put your hands up!"
The Kansas State Fair took place between September 10 and 19 this year. One little boy, in particular, was thoroughly enjoying himself.
After all, his bug collection had just won a blue ribbon — the second highest price — in a 4-H entomology competition. But what he couldn't have guessed was that it would also spark a federal investigation.
The boy's collection included a spotted lanternfly. It's an invasive species that has been plaguing the U.S. east coast since 2014.
The lanternflies are extremely destructive pests that can quickly wipe out crops. But agricultural officials thought they hadn't spread Ohio, 850 miles away from Kansas.
Until now, that is.
"We had one entomology issue," Gregg Hadley, Director for Extension at K-State Research and Extension and a Kansas State Fair board member, told The Hutchinson News.
"[The spotted lanternfly] was a dead one, but it was in a critter box. They think it came in on a camper," said Hadley.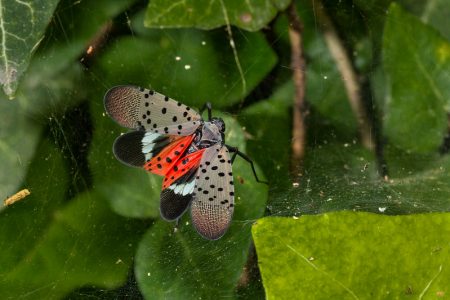 Credit Where It's Due
If you're feeling bad for the boy right now, you can stop. He did nothing wrong, and officials are actually praising him for his help in identifying the bug.
The boy told government officials that he'd found the insect dead on the patio of his family's house in May. He'd been gathering bugs for his competition entry the entire year, and he figured the brightly colored creepy-crawly would make a fine addition to his collection.
He even correctly identified the insect as the spotted lanternfly and gave it an appropriate label. The boy simply didn't know that it was a dangerous invasive pest.
One of the entomology contest's judges, however, knew better when he noticed the lanternfly. Although it was "worn and desiccated" by the time of the competition, its label was undoubtedly correct.
The U.S. Department of Agriculture (USDA) requires anyone who recognizes a spotted lanternfly to report the discovery. So, the judge did his civic duty and informed the USDA of the boy's collection.
Both the Kansas Department of Agriculture (KDA) and the State Fair organizers thank the boy for his invaluable assistance in recognizing the threat.
"It's really a great example of collaboration," Heather Lansdowne, a KDA spokeswoman, told The Washington Post.
Wade Weber, state leader for the Kansas 4-H program, called the incident an extreme example of the goal of 4-H exhibits. According to him, they're all about sharing knowledge to improve local communities.
"It's the excitement of a kid learning about their world, putting it on display, and sure enough, they discovered something that adults were like: 'Wow, this is really important for us to be aware of,'" Weber said.
"He has alerted us to a threat we weren't aware of, and we're really thankful," he added.
'Bad Bugs'
As a result of his discovery, the USDA and KDA are now monitoring Thomas County, where the boy lives. If they find any more bugs, USDA says they will act quickly to contain and destroy them.
There's a good reason for the caution. The spotted lanternfly, which is native to eastern Asia, can destroy a great variety of crops.
The lanternflies feed on more than 70 plants, including valuable crops like apple trees, grape vines, and hops. Their excretions are an ideal growing environment for a fungus called sooty mold.
The mold covers plant leaves, cutting of their access to sunlight. In the worst-case scenario, this can quickly kill the entire plant.
Ever since their entry to the U.S. in Pennsylvania, the bugs have spread across the east coast. They've now invaded Maryland, New Jersey, New York, Ohio, and Virginia.
The situation has gotten so bad that many of these states went under double quarantine last year. On top of the COVID-19 related quarantines, official banned the transport of certain agricultural items, like logs and landscaping waste.
The bugs breed like bunnies, which makes them all the more dangerous. One female lays 30-50 eggs, and even thought of their offspring dies before adulthood, their numbers multiply tenfold after each breeding season.
Due to their voracious appetite and insane breeding ability, officials recommend all people moving about in the nature to check their clothes and gear for bugs before traveling between states. And what should you do if you find a lanternfly?
""Kill it! Squash it, smash it… Just get rid of it. These are called bad bugs for a reason, don't let them take over your county next," says the Pennsylvania Department of Agriculture.
Oh, and remember to report it to the USDA.