Anything for a quick buck, we suppose.
You really can buy just about anything on the internet. Weird dog toys, someone's used underwear, dozens of dismembered parts of human corpses…
Wait, what?
As it turns out, you can buy human body parts on the web, at least if you know the right people. But your shopping options for corpses have just gotten more limited.
On August 18, authorities arrested an Enola, Pennsylvania, resident. At his house, the police discovered dozens of human organs and body parts.
Jeremy Pauley, 40, runs a website called The Grand Wunderkammer, which — according to the site — brings you "things of curious wonder." Pauley had apparently planned to sell the body parts he possessed through the website.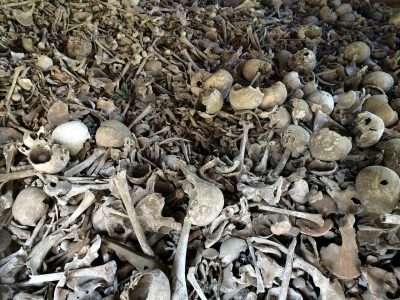 Skeletons in the Closet
The cops got on Pauley's trail on June 14, according to the East Pennsboro Township Police Department (EPTPD). They received an anonymous tip saying that there was some suspicious activity happening at Pauley's residence.
The whistleblower told the police that Pauley was buying and selling human body parts through Facebook. That's not an accusation to take lightly, so the cops went to pay Pauley a visit.
Indeed, the man openly confessed to possessing human remains. He told the police that he held three full human skeletons and between 15 to 20 skulls in his home.
However, he also said that he was a collector and reseller of "oddities," according to Fox 43. He also said that he had legally purchased every single bone he had (apart from his own).
Going over the bones and skulls, the police determined that they were "very old." Disturbing as they might be, it seemed Pauley had bought them according to all laws and regulations so there was nothing for the cops to do.
So, they left Pauley alone. For now.
Buckets of Body Parts
A while later, on July 8, the police got another phone call about Pauley. This time, the complaint was much more serious.
The caller claimed that they had discovered more than just old skeletons in Pauley's closet. Among other things, they stated they'd seen buckets of human skin and organs in his basement.
The cops got a search warrant and went to check out Pauley's house again. This time, they left with five bucketfuls of what they suspected were illegally acquired human organs.
The contents of the buckets ended up at the Cumberland Country Coroner's Office for investigation. The results of the inspection are gruesome, to say the least.
According to the police, the buckets contained an impressive collection of human components. Among other things, there were two brains, six pieces of skin and fat, a heart, a kidney, two livers, a trachea, a child's mandible, a pair of lungs, and a skull with hair still attached.
Upon further investigation, the cops discovered that Pauley had been buying the remains from an Arkansas woman called Candace Scott. Browsing through his Facebook messages, they found that Pauley had purchased $4,000 worth of body parts from Scott.
His extended shopping list included more brains, livers, lungs, and kidneys. There were also even more esoteric items, like half a head, another head with its skull cap missing, four hands, a piece of a torso including a nipple, and a female pelvis.
The police also learned that the body parts were en route to Pauley — through USPS. They managed to intercept the shipment in Scranton, Pennsylvania.
'Just When I Think I Have Seen It All'
Although Pauley's earlier skeletons were fine, this disturbing collection of human remains wasn't exactly legal. So, he was arrested and charged with abusing a corpse, dealing in proceeds of unlawful activity, and receiving stolen property.
Oh yes, the body parts were stolen. FBI's further investigations revealed that Scott had been stealing the remains from an Arkansas mortuary.
She would then sell and ship the organs, bones, and skulls to Pennsylvania for Pauley to resell. According to the EPTPD, the body parts are legally the property of the University of Arkansas.
We suppose their previous owners can no longer consider the organs their property.
Both the cops and prosecutors involved in the case were shocked with the scale and audacity of the corpse stealing and smuggling scheme.
"Just when I think I have seen it all, a case like this comes around," District Attorney Seán M. McCormack said in a statement.
"This is one of the most bizarre investigations I have encountered in my thirty-three years as a prosecutor."
Hits: 0