The Tampa Bay Buccaneers have fired offensive coordinator Byron Leftwich along with several other coaches on the staff, the team announced.
Leftwich, a former NFL quarterback, spent the last four seasons calling plays in Tampa Bay. Head coach Todd Bowles also decided to part ways with four other offensive assistants. The Tampa Bay Times first reported Leftwich's dismissal.
The Bucs finished a disappointing 8-9 this season but still won the NFC South. The team was expected to move on from its play caller after the offense struggled most of the season and flamed out with a 31-14 loss to the Dallas Cowboys in the wild-card round of the playoffs.
CLICK HERE FOR MORE SPORTS COVERAGE ON FOXNEWS.COM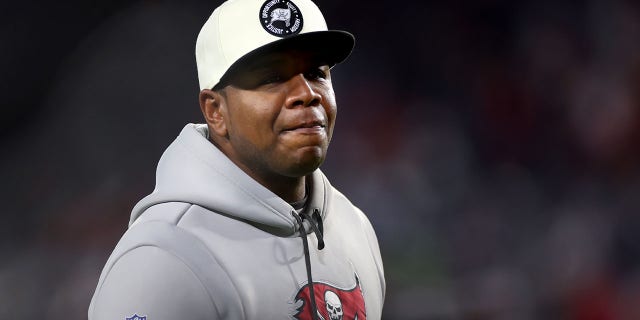 Shortly after Leftwich's playing days came to an end, he became a coaching intern with the Arizona Cardinals under coach Bruce Arians. Two seasons later, he was named the interim offensive coordinator, before he followed Arians to Tampa Bay in 2019.
Leftwich is credited with marrying Arians' offense with elements of the Patriots' offensive system that quarterback Tom Brady ran during his time in New England.
BILLS' JOSH ALLEN SAYS TOM BRADY'S PRESS CONFERENCE WAS 'A LITTLE TOO SENTIMENTAL FOR MY LIKING
Leftwich and Brady had a successful start together as the Buccaneers won the 2021 Super Bowl. In Brady's first two seasons with Tampa Bay, the team averaged over 30 points per game, the most in the NFL.
But, in 2022, Tampa Bay's offensive production dropped considerably. The team averaged 18.4 points per contest, which ranked 25th in the league.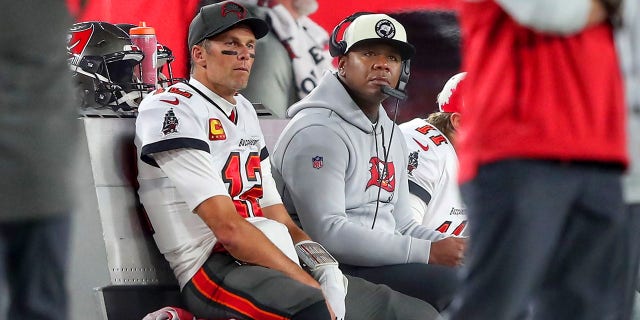 The offense became increasingly one-dimensional as the season progressed due to its inability to run the football. The Bucs averaged an NFL-worst 76.9 yards per game on the ground. In response, Brady threw a career-high 765 passes.
Injuries also set the Bucs offense back this season as multiple key offensive lineman and wide receivers missed time. Tight end Rob Gronkowski, Brady's former teammate in New England and Tampa Bay, opted to step away from football during the offseason, and right guard Alex Cappa departed in free agency. 
The Bucs front office attempted to replace wide receiver Antonio Brown's production with aging veteran Julio Jones. But some pointed to Leftwich's inability to adjust to personnel on a week-to-week basis and his failure to help jumpstart a stagnant offense.
COWBOYS SIGN NEW KICKER TO PRACTICE SQUAD AFTER BRETT MAHER'S FOUR MISSED EXTRA POINTS
Brady is set to become an unrestricted free agent this offseason. It is unclear where he will end up in 2023, but the Bucs will likely want the quarterback back.. 
Whoever the team picks as its next offensive coordinator could play a part in Brady's decision.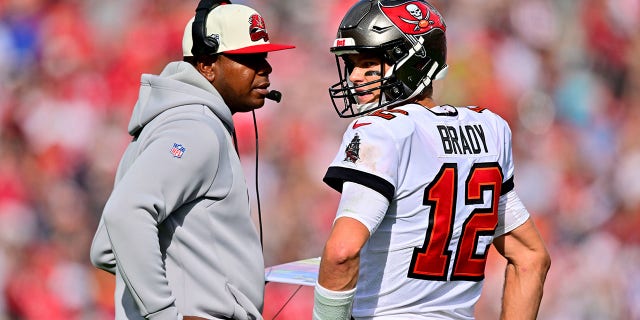 The team also announced the departure of several other members of the staff. 
Specialists coach Chris Boniol, wide receivers coach Kevin Garver, offensive quality control coach Jeff Kastl, assistant defensive line coach Lori Locust and running backs coach Todd McNair were all fired. 
In addition, quarterbacks coach Clyde Christensen, senior offensive assistant Rick Christophel and outside linebackers coach Bob Sanders decided to retire from coaching.
"We appreciate the hard work and contributions that all of these coaches made to our successes over the past four seasons," Bowles said in a statement. 
"As a collective group, we did not meet the high standards that had been set for this past year, and my focus now is on doing what is needed to ensure a successful 2023 season. These were very difficult decisions, but something that I felt was necessary for our football team going forward."
CLICK HERE TO GET THE FOX NEWS APP
Last year, Leftwich was one of the most sought after head coaching candidates in the league. He completed two interviews with the Jaguars, and the Bears and Saints also showed interested in the 43-year-old play caller.
Hits: 0